Debris Tarps
All of the following tarps are finished the same way, with webbing "X" diagonally from corner to corner, grab loops in (4) corners and a "+" from side to cisde creating (8) grab loops total.
Please note that ThoroWeave 900 is a wickerweave polypropylene trampoline fabric with larger holes in the mesh to allow faster water drainage.
ThoroWeave 950 is a mono-filament polypropylene fabric resulting is a closed mesh for maximum retention.
ThoroShield 4050 is a completely waterproof and impervious 40 oz/sy polyester rip-stop tire cord reinforced coated vinyl.
Watch THOR Debris Tarps In Action
Size
Part Number
Name
Price
12' x 12'
65-5-25a
ThoroWeave 900 Black
$195.00

66-5-25a
ThoroWeave 950 Black
$195.00

85-5-25a
ThoroShield 4050 Black
$335.00

12' x 20'
65-5-25
ThoroWeave 900 Black
$325.00

66-5-25
ThoroWeave 950 Black
$325.00

85-5-25
ThoroShield 4050 Black
$555.00

The following products have a double layer of polypropylene mesh fabric which has been determined to more than double the useful life of the tarpaulin.
12' x 12'
65-5-25aX2
ThoroWeave 900 Black
$265.00

66-5-25aX2
ThoroWeave 950 Black
$265.00

12' x 20'
65-5-25X2
ThoroWeave 900 Black
$430.00

66-5-25X2
ThoroWeave 950 Black
$430.00

Snow Removal Tarps
THOR's snow removal tarps are the best way to keep construction sites free of snow. Place the tarp out before the snow hits and remove it when you're ready to work. Just simply attach the loops or rings to a crane or lift and all the snow will be out of your way in minutes. Choose between our economy style snow tarp and premium style snow tarp. THOR's quality snow tarps are all made in our Chicago, IL. manufacturing facility.
ECONOMY SNOW REMOVAL TARP
20' x 20' Black 18 oz. vinyl coated polyester tarp with "X" pattern, 6000 lb. break strength webbing, 12" loop ends, reinforced corners.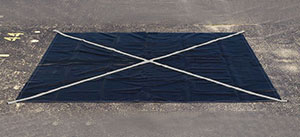 ThoroShield 1850 Black Economy
$390.00 each
Tarp cut size: 20' x 20'
Tarp weight: 65 lbs
Webbing: 6,000 lb break
Fabric type: PVC Coated Polyester
Fabric weight: 18.5 oz
Thread count: 20x18 (1000D x 1300D)
Grab Tensile Strength: Warp 440xFill 430 (FS-191-5100)
Tongue Tear Strength: Warp 100xFill 80 (FS-191-5134)
Adhesion: Warp 12xFill 10 (FS-191-5970)
Abrasion: 400 Cycles (FS-191-5306)
Hydrostatic: At least 600 PSI (FS-191-5512)
Cold Crack: -22 F. (FS-191-5874)
UV Resistance: Not excessive fading after 300 hours (Weather-O-Meter)
Temperature Resistance: 158 F. (FS-191-5872)

PREMIUM SNOW REMOVAL TARP
20' x 20' Black 22 oz. vinyl coated polyester tarp with "X" pattern, with an additional plus pattern made from 12,000 lb. break strength webbing with 5000 lb. break strength, 3" diameter x 3/8" steel O-rings on ends of all webbing, reinforced corners.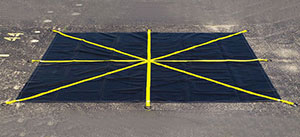 ThoroShield 2250 Black Premium
$520.00 each
Tarp cut size: 20' x 20'
Tarp weight: 80 lbs
Webbing: 12,000 lb break
O-Rings: 3,000 lb. break
Fabric type: PVC Coated Polyester
Fabric weight: 22 oz
Thread count: 20x18 (1000D x 1300D)
Grab Tensile Strength: Warp 500xFill 510 (FS-191-5100)
Tongue Tear Strength: Warp 145xFill 80 (FS-191-5134)
Adhesion: Warp 15xFill 10 (FS-191-5970)
Abrasion: 600 Cycles (FS-191-5306)
Hydrostatic: At least 600 PSI (FS-191-5512)
Cold Crack: -22 F. (FS-191-5874)
UV Resistance: Not excessive fading after 300 hours (Weather-O-Meter)
Temperature Resistance: 158 F. (FS-191-5872)

---
Pictures of Debris Tarps in Action
Videos of Debris Tarps in Action